Best Choice For a Dumpster Rental Princeton TX
If you're been looking for a reliable, affordable, and organized team of dumpster rental Princeton TX professionals to help keep your project on track, look no further than Good Bull Dumpster Company! From residential renovations to business cleanouts and construction waste clean-up, we have the dumpster that's right for you. Not only do we offer cost-effective dumpster rental prices, but we also provide unmatched customer service and reliable, on-time delivery. With our team, the dumpster rental process is easy and quick. We guarantee complete satisfaction when using our premier roll off dumpster rental Princeton TX services.

Having a trustworthy dumpster rental Princeton TX service is one of many important factors when considering which roll off rental company best suits your needs. You need dedicated trash removal experts to ensure your project goes off without a hitch. We are committed to providing efficient service, reasonable prices, and durable dumpsters that can be used for any project, no matter the size. With our Princeton garbage dumpster options, you can rest assured your project will be completed in a timely manner. Our user-friendly online booking system is just another beneficial feature when ordering a dumpster rental through our team of experts.

We have the best dumpster rental Princeton TX has to offer! Our dumpsters are made to efficiently hold and manage any small or large debris your project may accumulate. We take great pride in keeping the Collin County community looking its absolute best. Residents of Princeton, Texas, and surrounding areas count on us to not only remove their waste, but to do so in a responsible, convenient, and structured way. If you want a company that cares, choose us for your next Princeton dumpster rental!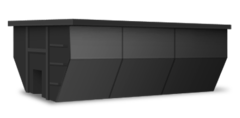 Dimensions
16'L x 8'W x 5'H
Included Tonnage
3 included
Additional Days
:
$15/day
Extra Weight
:
$100/ton
We Take Just About Everything
Some examples of the junk we haul away include
Refrigerator Disposal

Garbage Removal

Mattress Disposal

Foreclosure Clean Outs
Construction Waste Removal

Yard Waste Removal

Trash Removal

Appliance Removal
Television Disposal & Recycling

Furniture Removal

E-Waste Disposal

Hot Tub Disposal
Why Choose Us For Your Dumpster Rental Princeton

We are the go-to dumpster rental Princeton service provider residents and business owners call first. People choose us because we care deeply about our city and customers with our waste removal services. Our efficient and reliable dumpster options can handle any project ranging from residential to commercial to construction. With easy loading access and affordable prices, your roll off dumpster rental Princeton process has never been easier than with Good Bull Dumpster Company! We are committed to timely delivery, exceptional customer service, and reliable dumpster bins.

It's important to choose the right dumpster rental Princeton company that residents know is taking their waste disposal seriously. We know how important it is to Collin County residents to keep our community clean, which is why we frequently partner with Custer Transfer Station to properly dispose of your waste. We always abide by all city, county, and state regulations when disposing of your waste. When you're ready to rent a dumpster Princeton TX, it's important to partner with a team that cares about the outcome of your project just as much as the future of our environment by disposing of all waste responsibly. Call (469) 358-3503 or book your Princeton texas dumpsters online today!

Reliable Princeton Residential Dumpster Rental

Booking a residential dumpster rental Princeton may be something you have never done before, but with us, the process is easy. Collin County residents love our online booking system because it's so easy and quick. Within minutes of going online, your residential dumpster rental Princeton TXcould be yours. The good news about booking with us is that we have dedicated waste management experts ready to assist you through the entire process! Renting a dumpster shouldn't be a hassle, and that's what we aim for. Book your dumpster rental with us today by giving us a call or browsing our online inventory!

Homeowners and residents frequently book our dumpsters in Princeton TX to manage garage, attic, or basement cleanouts, appliance removal, furniture removal, estate sale preparation, roofing repairs, single-room renovations, outdoor projects, and so much more.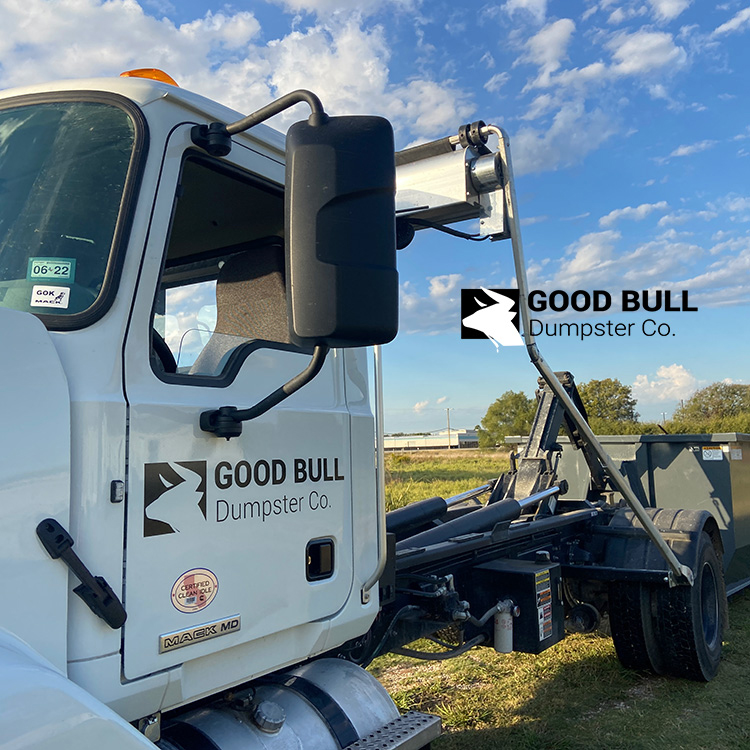 If you're looking for a Princeton residential dumpster rental, you've come to the right place. Good Bull Dumpster Company has the perfect-sized dumpster rental for any residential job! Whether you are planning a room renovation or doing a massive attic cleanout, our Princeton dumpsters are perfect to dispose of your waste. No more worrying about what you will do with all that waste that naturally accumulates over the years. Leave it to us to take care of!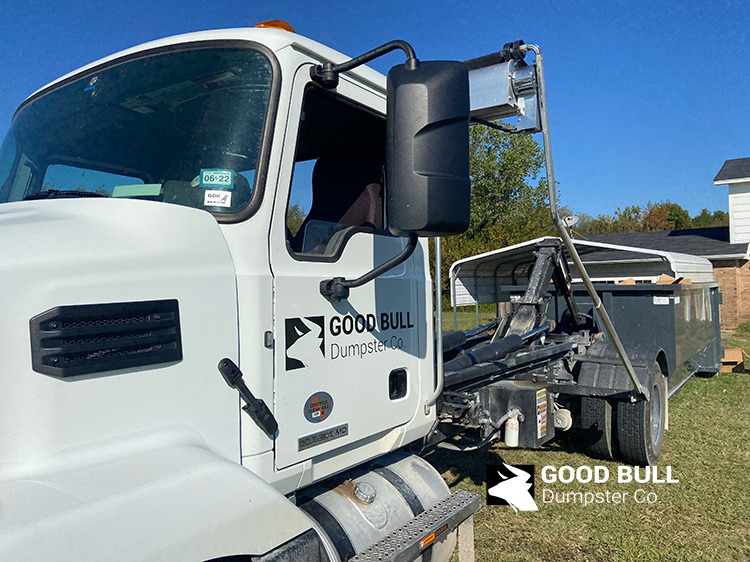 Princeton TX Residential Dumpster Rental For Yard Waste

Whether you're removing debris or thinking of doing some patio or landscaping work, our high-quality dumpsters are the perfect solution to yard waste cleanup. With ease and convenience, your yard waste can be gone in no time! Our traditional residential bins don't always have enough space to take care of our waste, and that's why people call us to take care of the rest! If you're wondering how to rent a dumpster in Princeton Texas for your upcoming yard project, call us today for the perfect solution to your yard waste management or book online!

For your next yard project, choose the #1 choice for Princeton TX residential dumpster rental. Good Bull Dumpster Company is Collin County residents' go-to provider for all of their yard waste management needs. Whether you're pulling weeds, clearing out brush, or cleaning up after a storm, our Princeton TX dumpster rental options are a great asset for a wide range of outdoor projects.

Contractors' Choice for Construction Dumpster Rental Princeton TX

When booking a construction dumpster rental Princeton TX with our team, you can rest assured we care about the success and organization of your job site just as much as you do. With our team of professionals, you're working with a friendly, experienced, timely company that regularly partners with contractors. We know the importance of saving time on a construction site, which is why we are dedicated to on-time delivery for each dumpster Princeton rental you book. No more pushing your project another day because your dumpster didn't make it on time. With Good Bull Dumpster Company, your project site will stay streamlined and waste-free. Book your Princeton TX construction dumpster rental for your next construction project today!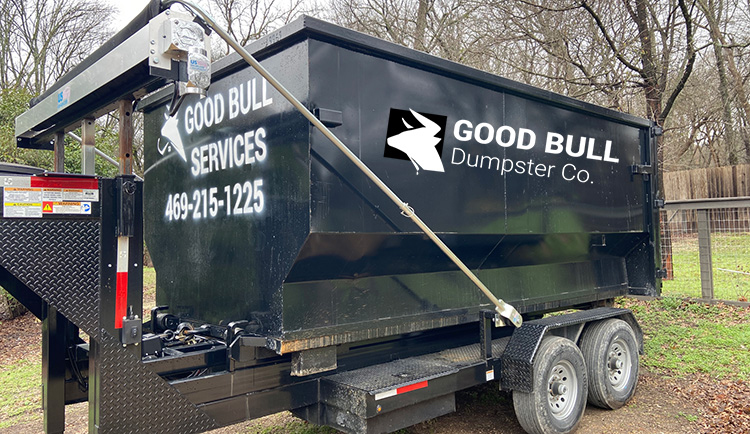 Contractors know the importance of finding the best construction dumpster rental Princeton TX has to offer. When working on a job site with large amounts of waste and heavy materials, you need a reliable dumpster that is large and withstanding enough to handle a range of construction materials. Our durable dumpsters are made to handle a wide variety of bulky items, including drywall, wood, asphalt, brick, tile, and other heavy debris. Our Princeton construction dumpster rental can do it all!

Efficient and Convenient Princeton TX Roll Off Dumpster Rental For Roofing

If you're planning your own roof repair or preparing for an upcoming roof replacement job, our Princeton TX roll off dumpster rental selections make a great addition to any construction project. With Good Bull Dumpster Company, all your roofing debris will be properly disposed of as soon as you let us know the roll off is full. Whether it's for a property you own or a commercial roof replacement, our dumpsters can handle the job. We offer a durable, industry-standard container that will make your roofing job that much easier.

Our high-quality containers are capable of hauling a range of materials and debris such as shingles, wood, tile, asphalt, nails, and more! After working on a roof all day, the last thing you want is to try and figure out how to dispose of all the leftover materials. Leave it to us to take the waste and make it disappear. You can focus on your roofing project without the added stress of cleaning up. Get your roofing roll off dumpster Princeton TX rental today by calling (469) 358-3503 or booking online!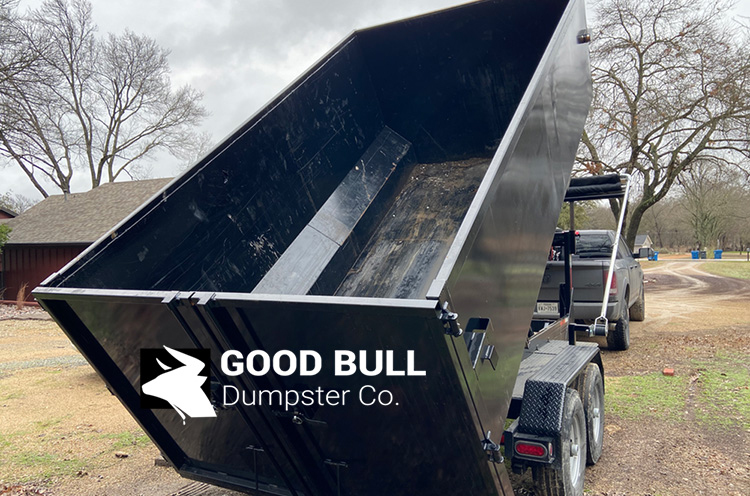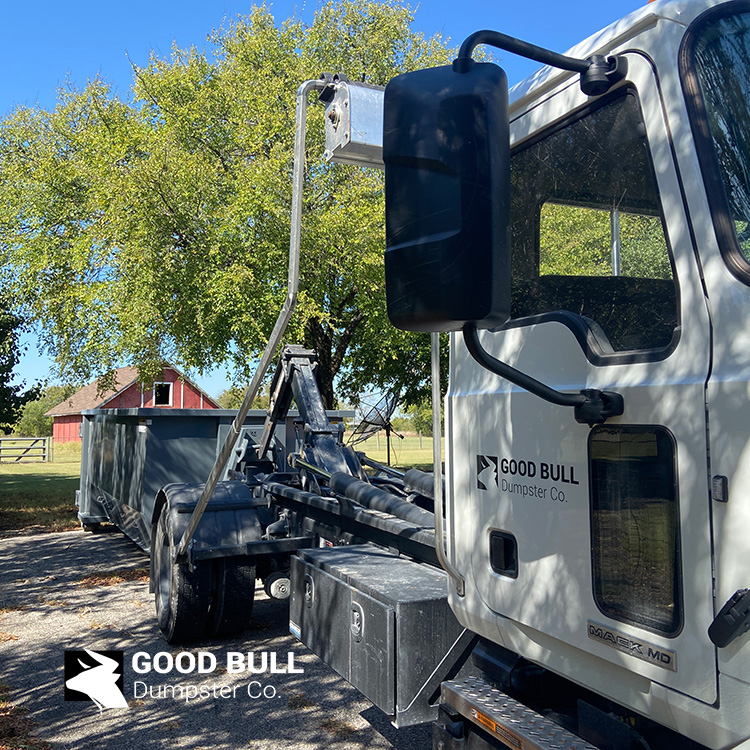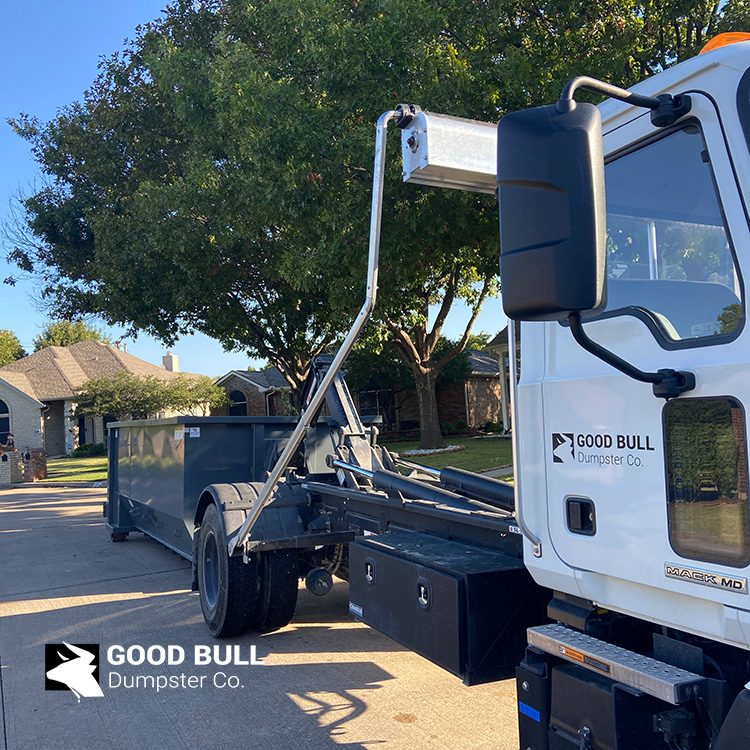 Commercial Garbage Dumpster Princeton for Your Business Needs

For all your commercial waste management needs, rent the best garbage dumpster Princeton selection through Good Bull Dumpster Company! Timely, affordable, and convenient dumpsters are our top priority when it comes to assisting your next commercial project. Whether you are looking to complete a much-needed office cleanout or just looking for monthly waste removal, we can do the job for you!

We regularly work with office managers, apartment complexes, hotels, residential dormitories, restaurants, coffee shops, and other commercial spaces to manage their range of waste needs. Rent a dumpster Princeton TX with us to really clean out all the unnecessary clutter your space has accumulated over time. Our affordable Princeton dumpster rentals are guaranteed to help keep your commercial space waste-free for the benefit of your employees, guests, customers, or residents. Book your commercial Princeton TX garbage dumpster online today!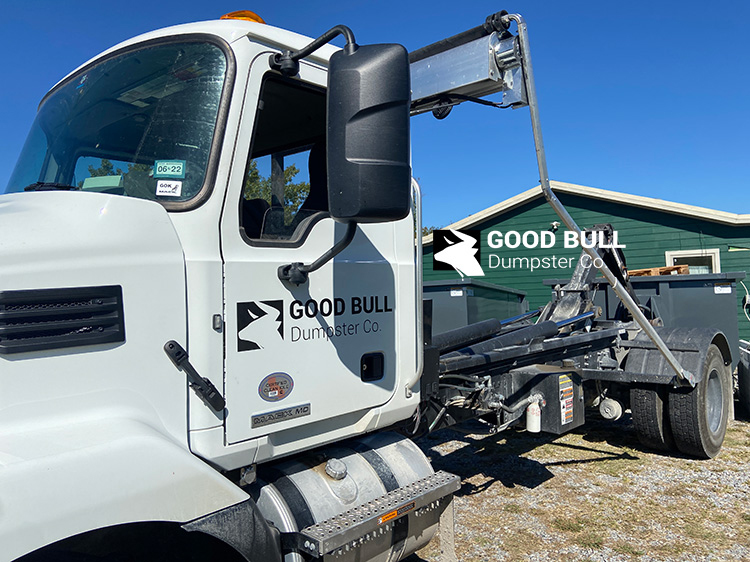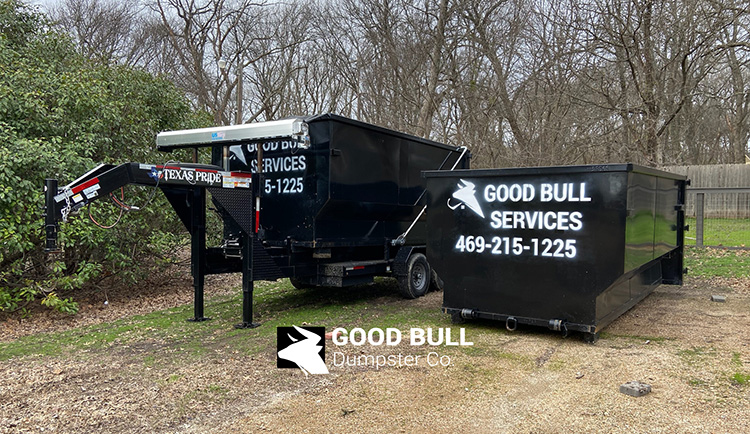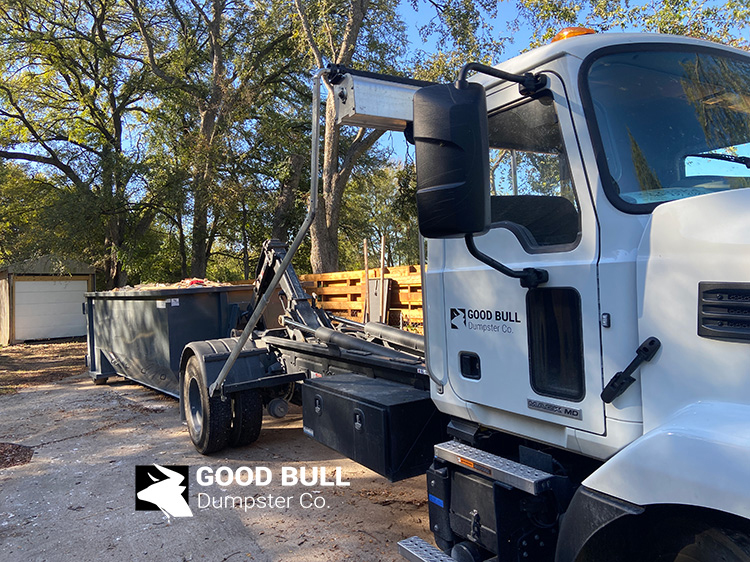 How to Book Our Princeton Dumpster Rental

Are you ready to book your Princeton dumpster rental today? The process is easy with Good Bull Dumpster company! Our online booking system is made for any residential or commercial renter to complete with ease. Rest assured knowing that waste management experts are available to assist all your needs during your Princeton how to rent dumpster process.

When booking a Princeton dumpster rental with us, the steps are easy: Click the white "dumpster rental" tab at the top. This will bring you to a page where you can review all the specific details of our high-quality dumpster options. Once you've found the perfect size roll off for your project, click the red "book now" button. Then click the red "add to cart" button and answer a question about the dumpster service Princeton type (residential or commercial).

Once you click continue and choose your dumpster rental dates, a screen will come up with your total. Once you click the red "check out" button, you will be brought to a page where you can fill out detailed information about yourself and your dumpster placement. Submit your billing information on our secure website and place your order, then the dumpster is yours! You'll receive a confirmation email from our team and we'll be in touch leading up to the day of the delivery to confirm a drop off window.

We will deliver your dumpster on your chosen dates on time and all you have to do is fill it up, give us a call, and then we will haul it away, it's that easy! Don't worry about how to rent a dumpster in Princeton TX. With our team of friendly, helpful experts, it's a walk in the park.


Sizes & Prices to Rent a Princeton Dumpster
We carry the perfect sizes and prices to rent a Princeton dumpster affordably! Our one-size dumpster is guaranteed to be able to handle any project big or small you may have. We want to make your waste management simple and easy by offering a high-quality dumpster at an affordable price.

We offer one size dumpster because we know this Princeton dumpster can handle it all! You may be looking for a 10 yard dumpster rental Princeton TX, but our 20 yard dumpster is the perfect size for holding a large amount of trash and it also has convenient dimensions to make loading easy. Our 20 yard dumpster can be rented for up to 7 days at a low price of only $440. This is a low cost to get a dumpster in Princeton. Rental time extensions are also available at a low price if you need a little more time to remove your waste. Make your waste management easy by booking a 20 yard dumpster with us today!
FAQs For Roll Off Dumpster Princeton
We understand you might need additional information before you're ready to rent a roll off dumpster Princeton for the first time. We have excellent waste management experts available to help at all times during your dumpster rental process. In case you need more information before renting your dumpster, we have come up with a list of frequently asked questions that may help:

1. How much does it cost to rent a roll off?
Our Princeton TX roll off dumpster prices vary depending on how much weight we're hauling and how long you need the rental. We do our best to keep our Princeton dumpster service prices low and our standards high, providing the best possible customer experience possible for every single rental. Our Princeton Roll off dumpster rental services are a cost-effective way to clear out the waste, manage a foreclosure, downsize, or keep your job site on track.

2. What can be hauled away in your roll offs?
Our garbage dumpster Princeton TX options dumpsters will accommodate many forms of waste, including remodel or renovation, construction debris, demolition debris, roofing tear off, garage or attic cleanout, pre-listing junk removal or decluttering, yard clean up, tree trimming debris, bulk trash, residential or business waste, and more! Excluded items include tires, hazardous material, liquid solvents, chemicals, freon, batteries, paint, biohazard or medical waste, asbestos or lead-painted materials, propane tanks, equipment containing gas or oil, refrigerators or freezers, air conditioners, dead animals, brick, rock, stone, dirt, or mud.

3. How do I rent a roll off with your company?
Renting a roll off dumpster Princeton is a straightforward and simple process with our user-friendly online booking system. Just navigate to our "Dumpster Rentals" page, add the roll off to your cart, and check out like any other online shopping experience. If you have any questions about the rental process, feel free to give us a call at (469) 358-3503.
Providing City of Princeton Dumpster Rental & Surrounding Areas
When you're ready to start your next project that requires a city of Princeton dumpster rental, we're ready to prove to you why we're the trusted, convenient, and affordable choice for residents, business owners, and contractors. We make the dumpster rental process easy so you can focus on what's important- your project! In Princeton, we proudly service the following zip codes with our efficient waste management services: 75407.

Our community matters, which is why we want it to stay clean and waste-free. J.M. Caldwell Sr. Community Park is a go-to spot for Princeton residents. No one wants to see trash overflowing in such a beautiful environment. To know your trash is being disposed of properly, choose us for your City of Princeton dumpster rental Princeton Texas. Our services extend to the following surrounding areas: Fairview, Allen, Plano, Wylie, McKinney, Lucas, Parker, St Paul, Lowry Crossing, New Hope, Altoga, Melissa, Farmersville, Anna, Weston, Van Alstyne, Howe, Murphy, Frisco, and Lavon. If you don't see your zip code or city listed, give us a call and let us know because we frequently deliver to areas even farther out and special accommodations can sometimes be made to help you rent a dumpster with us.