Good Bull Dumpster Company
Are you looking for a dumpster for a home improvement project? Or do you have a construction or demolition project you need a waste management solution for? Look no further than Good Bull Dumpster Company. Our 20 yard dumpster is perfect for medium sized projects and for larger projects inquire about our multiple dumpster discount. Give us a call today and get a free quote or use our online booking to reserve a dumpster right now. Just select a time slot that's convenient for you and enter your info. We'll deliver the dumpster to your property or work site and come pick it up once you notify us the project is complete.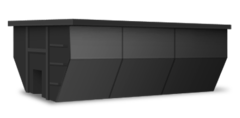 Dimensions
16'L x 8'W x 5'H
Included Tonnage
3 included
Additional Days
:
$15/day
Extra Weight
:
$100/ton
We Take Just About Everything
Some examples of the junk we haul away include:
Refrigerator Disposal

Garbage Removal

Mattress Disposal

Foreclosure Clean Outs
Construction Waste Removal

Yard Waste Removal

Trash Removal

Appliance Removal
Television Disposal & Recycling

Furniture Removal

E-Waste Disposal

Hot Tub Disposal
MANAGING WASTE FOR YOUR HOME OR BUSINESS
From construction projects to homes, office buildings to schools, stores to hotels and restaurants, every commercial and household building generates a significant amount of waste. That's why it is important to have a plan to dispose of that waste as efficiently as possible.

While there are several ways to handle the waste your property produces, some options can be better than others depending on your needs. While small amounts of trash and debris can be handled by your municipality's trash service, larger volumes of waste and certain types of waste require additional resources. This is where many home and business owners turn to a dumpster service company, whether it is a one-time rental or recurring service. While there are many affordable and 'cheap' dumpster rental companies available in every corner of Dallas/Ft. Worth that handles collection, transport, treatment, and disposal of waste, so that you do not have to, some are certainly better than others in terms of customer service and experience.

Benefits for Business and Home – Dumpster Rental Collin County and Beyond

Regardless of the intended use, our dumpster rental prices are always very affordable. Now you can relax, knowing that there is someone who will help you get rid of the waste so that you can focus on higher priorities. Our dumpster rental services cover a wide range of jobs so that your business or household can manage waste effectively. Here are some benefits of utilizing a dumpster rental service in Dallas, Texas:

1: For Contractors:
Increase project productivity and efficiency by eliminating double handling of debris produced by demolition or construction. Increase safety by ensuring that your project is clean at all times. Improve your perceived professionalism with clients and potential clients, city employees, neighbors, and trades by utilizing a high-quality container rather than makeshift plywood enclosures. All of these things will help to make you more profitable in your endeavors. If you feel you can utilize our dumpster rental services, give us a call.

2: For Business Owners:
You need to know that you can rely on your waste management service company to remove your waste in a timely manner, professionally, and within budget. Our dumpster rental services have the quickest turnarounds in DFW and are competitively priced. Call us about our discounted rates for recurring service.

3: For Homeowners:
Many municipalities offer bulk trash removal. However, this often only happens one day out of the month and the amount and type of items they will remove can be rather limited. If you are cleaning out an attic, a garage, doing a pre-listing junk removal or declutter, have bags and bags of fall leaves, grass clippings, or tree trimmings, we can provide a convenient, easy-to-access container and remove the unwanted items within hours of your request. Call us for your dumpster rental today.

4: For Landscapers and Tree Services:
Many landscaping contractors and tree trimming and removal services do not have the means to haul off the waste material created on a project. This leaves your customers to either pay to have someone else remove the material or dispose of the material themselves. Using a dumpster rental allows you to provide a full turnkey service to your clients. Happy clients offer the best referrals. Let us help you grow your business.

5: For Roofers:
If you do not have access to a dump trailer or have more projects than trailers, let us help you out. Our dumpster rentals will allow you to be more efficient and appear more professional by not leaving a pile of tear-off material in a client's yard until you can have it removed. Again, this eliminates double-handling and increases the bottom line.